Exposure To Natural Elements Should Determine The Type Of Floor You Should Have

The final decision will depend on the placement and how exposed the flooring will be to natural elements.


Take Into Account The Area of Installation Before Opting Marble Or Travertine

When comparing marble to travertine materials for your next flooring selections, there are many similarities and some important differences.
Depending on the place where you want the flooring installed and the type of foot traffic and average upkeep necessary, you should be well advised before making the ultimate decision on any flooring materials.
Many householders will want the look of marble or travertine but do not want to deal with the trouble of regular upkeep or yearly preservation.


Marble Flooring Selections Are Not For Everyone
But many more homeowners are adopting marble as the flooring material of choice. Marble is no longer just for mansions or big estates. You can find marble floors in numerous homes with pets and children or in both warm and cool climates.
Adding value to your home, marble can give you the personalized touch you are looking for in a durable flooring option. Different vein patterns and colors are available for marble floors so that you are sure to find a flooring material suitable for your home or office.
Keep in mind that marble floors must be professionally installed and maintained regularly due to its porous nature and can stain easily if not sealed properly.

It Is Apparent In Many Roman Structures Including The Renowned Coliseum In Rome
It is one of the more common natural stone choices when building patios and garden paths. Travertine can be purchased in its natural form, with pitted holes and also filled by a professional.
Travertine floors can be polished in various degrees from non-reflective to add warmth and gentleness to your home or highly polished to add that glow and hard finish to any business office.
Sealer should be added to travertine floors in order to keep it from absorbing too much moisture through the natural holes and crevices in the material.


Because Of The Weight The Mortar Mix Has to be Made Carefully To Install Both Marble and Travertine
Both marble and travertine are heavy materials, therefore a firmer mortar mix should be prepared so it can hold the weight of these stones.
Opposite that a lighter material, such as ceramic tiles, will demand.Both marble and travertine should be sealed if you want to avoid moisture or debris from entering any holes or staining the stone itself.



Call me anytime for a free estimate:
Monday-Sunday
7:00 AM thru 9 PM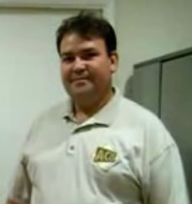 "The Most Recommended Tile Installer in
South Florida"
Toll-FREE: (800) 720-8061